Korilakkuma is a friend of Rilakkuma. She's a super cute little white bear with pink ears and white tummy. She has a mischievous sense of humour. And she is always busy and loves to play tricks on her friends. Especially Rilakkuma while he relaxes or sleeps. What fun!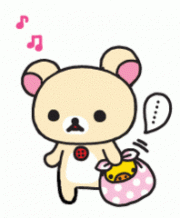 Korilakkuma has lovely soft white fur and a cute red button on her chest. Korilakkuma doesn't have a zipper on her back unlike her friend Rilakkuma.
She loves playing with toys, especially a  radio controlled duck. Just like Rilakkuma, she likes music and food. And her favourite food includes  Strawberries, Apples and Cherries.
Where to buy Korilakkuma?
Kawaii Unicorn – Kawaii Shop sells super cute Plushies, Accessories and Stationery. Buy Korilakkuma on KawaiiUnicorn.com