If you don't know who Rilakkuma is then I will love telling you about this super cute Japanese brown bear. If you have heard of him, then it would be great if you can stick around, and read my post or maybe take a look around the Kawaii Shop where we sell lots of cute Rilakkuma goods..
Who is Rilakkuma?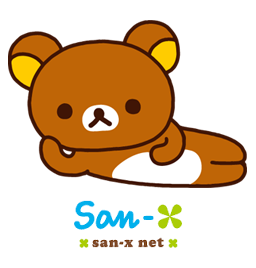 Rilakkuma is a cute character made by Japanese Kawaii brand San-X. He was first introduced in Japan on 2003 so he's 14 years old. He's a teenager or maybe actually he's like Peter Pan or Bart Simpson who never grows old!
The name Rilakkuma is a combination of two Japanese words, it translates to "Relaxed Bear" in English. And his name certainly gives us all a big clue to his nature! A cute lazy and very relaxed bear. He will make us smile and remind is to relax!
Rilakkuma's story is that he one day appeared in a lady office worker's apartment. And here he lives and likes to lazily relax. He takes it easy and loves eating and sleeping. His favourite food are dango, pancakes, and puddings.  Rilakkuma is often seen sleeping, eating or just taking it easy. Thats what I call a "Bears Life" in suburban Japan! How awesome!
Rilakkuma has super soft brown plush fur, he has cute little yellow ears, a white tummy and on his back is a zip. The zip can be opened to find a light blue polka dot patterned material inside. Friends include Korilakkuma, Kogumachan and Kiiroitori.
San-X
San-X are hugely big Kawaii brand from Japan. Rilakkuma is just one of many characters that San-X make. Kawaii Unicorn – Kawaii Shop sells adorable San-X goods. We stock Rilakkuma – plush, accessories and also stationery.